WORLD EQUIPMENT CO.,LTD.
Marketing Office: No.593 Middle TongJiang Road, 4#1110-1116,Changzhou,Jiangsu,China 213022
Manufacture: Dantu Industrial Zone, ZhenJiang, JiangSu, China
Post Code : 213022
E-mail :
worldequipment@163.com
Description:
The backhoe loader is mainly comprised of powertrain assembly, wheel loader unit and excavator unit. It is typically designed for special kinds of work. The three parts are all quite necessary when operators want to finish their work in special working environment.
Powertrain Assembly:
As the core part of backhoe loader, the powertrain assembly makes it possible for the backhoe loader to normally operate on various rugged terrains.
Wheel Loader Unit:
Installed in the front of backhoe loader, the wheel loader unit is mainly used in picking and carrying a large quantity of loose materials, bulldozing and ground grading.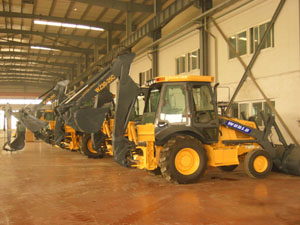 Backhoe Loader
Excavator Unit:
As the major component of backhoe loader, the excavator unit can be used to excavate dense and hard materials, especially soil. It can be also used to lift heavy stuffs in order to carry them to the target places. It mainly consists of movable arm, bucket rod and bucket.
Stabilizing Feet:
When the backhoe loader is working, the stabilizing feet can absorb the impact caused by weight, which can prevent the downward force caused by the operation of loader from damaging the wheels and tires. In this way, the backhoe loader can remain stable during operation and the impact force during excavating can be minimized.
Features:
1. It is fitted with reliable genuine Cummins engine.
2. 4 forward & 4 reverse synchromesh mechanical shift transmission have been designed for this backhoe loader.
3. The combined seal cylinder ensures high seal performance and more reliability for it.
4. Obviously improved loader and backhoe performance.
5. It has been equipped with CARRARO wet type rear axle with multi-disc brake & CARRARO front axle
6. Larger new-type cab helps to increase comfort and visibility of this backhoe loader.
7. Both of 2-wheel driving and 4-wheel driving are available.
Technical Parameters:
Specifications
WZ30-25 Backhoe Loader
WZ30-25C Backhoe Loader
Overall Dimension
1
Length (with bucket on ground)
7077(mm)
7077(mm)
2
Width
2350(mm)
2350(mm)
3
Load Bucket width
2313(mm)
2328(mm)
4
Height (To the top of the cab)
2720 (mm)
2735 (mm)
5
Height (To the top of the digging pole)
3424 (mm)
3424 (mm)
6
Wheelbase
2155.5(mm)
2155.5(mm)
7
Back wheel Tread
1557(mm)
1557(mm)
8
Fore wheel Tread
1714(mm)
1714(mm)
9
Min. ground clearance
355(mm) for 2WD 275(mm) for 4WD
355(mm) for 2WD 275(mm) for 4WD
Main Loading Technical Specification
1
Rated load
1700(Kg)
1700(Kg)
2
Operating weight
7000KG
7400KG
3
Max lifting capability
>2500KG
>2500KG
4
Rated load bucket capacity
1.0(m3)
1.0(m3)
5
Max. load breakout force
>40kN
>40kN
6
Max. dump clearance
2611(mm)
2611(mm)
7
Max. Dump reach
726(mm)
726(mm)
8
Dump angle at any position
≥43.50
≥43.50
9
Min. turning radius
(1) Outside of bucket
5280(mm) for 2WD 5670(mm) for 4WD
5280(mm) for 2WD 5670(mm) for 4WD
(2) Center of front wheel
3795 (mm) for 2WD 4300(mm) for 4WD
3795 (mm) for 2WD 4300(mm) for 4WD
10
Lifting time of loading bucket
≤5.1(sec.)
≤5.1(sec.)
11
Lowering time of loading bucket
≤4.9(sec.)
≤4.9(sec.)
12
Dumping time
≤0.9(sec.)
≤0.9(sec.)
13
Traveling speed(Km/h), 4 forward and 4 reverse
(1) Ⅰ gear forward
5.8
5.8
(2) Ⅱ gear forward
10.5
10.5
(3) Ⅲ gear forward
20.1
20.1
(4) Ⅳ gear forward
40.2
40.2
(1) Ⅰ gear reverse
7.0
7.0
(2) Ⅱ gear reverse
12.6
12.6
(3) Ⅲ gear reverse
24.3
24.3
(4) Ⅳ gear reverse
48.6
48.6
Main Digging Technical Specification
1
Rated digging bucket capacity
0.3(m3)
0.3(m3)
2
Max. digging depth
4338(mm)
4338(mm)
3
Max. digging force
>50+10%kN
>50+10%kN
4
Max. digging radius
5481(mm)
5481(mm)
5
Max. dumping height
3737(mm)
3737(mm)
Diesel engine
1
Model
Cummins B4.5                                               
WD DEUTZ TD226B                                                 
2
Type
Direct injection, Turbocharged. Water cooling
Direct injection, Natural Aspirate, Water cooling
3
Rated output
74 (kW)
70 (kW)
4
Total exhaust of cylinder
4.5(L)
3.92(L)
5
Inter-bore of cylinder/stroke
102/138(mm)
102/120(mm)
6
Voltage of starting motor
12(V)
12(V)
7
Rated speed
2200(r/min)
2200(r/min)
8
Max. Torque
414(N.M)
360(N.M)
9
Starting type
Electric
Electric
10
Min. specific fuel consumption
225(g/Kw.h)
216(g/Kw.h)
Transmission System
Torque Converter
1
Model
CARRARO
CARRARO
2
Cooling type
Pressure oil circulating
Pressure oil circulating
Transmission case
1
Model
CARRARO
CARRARO
2
Type
Synchromesh mechanical shift
Synchromesh mechanical shift 
3
Gear shift position
4 Forward and 4 reverse gears
4 Forward and 4 reverse gears
Axle and Tire
1
Model
CARRARO
CARRARO
2
Type of main reducer
spiral bevel gear, single stage
spiral bevel gear, single stage
3
Type of final reducer
Single stage planetary
Single stage planetary
4
Max. steering angle
550
550
5
Tire type
4WD fore tire 12-16.5NHS-10PR
4WD fore tire 12-16.5NHS-10PR
2WD fore tire11L-16F3-12PR
2WD fore tire11L-16F3-12PR
Rear tire 19.5L-24R4-12PR
Rear tire 19.5L-24R4-12PR
Working Device Hydraulic System
1
Model of oil pump
P257A467PRZA12-6
JHP2050AXCC
2
System pressure
215(kgf/cm2)
215(kgf/cm2)
3
Model of priority valve
WALVOIL SD16/2、SD16/6
ZL20DC-02
4
Model of excavate valve
ZL30DC-07
Steering  System
1
Type
Fore wheel Steering
2
Model of steering pump
P257A467PRZA12-6
JHP2050AXCC
3
Model of steering gear
150-1219
BZZ5-E160B+ FKB-3022
4
Model of priority valve
YXL-F160L-N7
5
System pressure
140(kgf/cm2)
140(kgf/cm2)
Oil Capacity
1
Fuel (diesel)
151(L)
151(L)
2
Engine lubricating oil
11(L)
11(L)
3
Oil for converter and gear box
18.5(L)
For 2WD
18.5(L)
For 4WD
21(L)
4
Oil for hydraulic system
110(L)
110(L)
5
Oil for driving axles (F/R)
 7.6+17 (L)
 7.6+17 (L)
World Equipment is a professional manufacturer and supplier of backhoe loader in China. Our products have been quite popular in Europe, South America, Middle East, Southeast Asia and Africa, etc. In the past 10 years, we have been kept improving our products to make them better adapt to the market. If you need backhoe loader, we will provide a competitive price for you. Don't hesitate, please contact us.
Related Products
Skid Steer Loader
Our skid steer loader have the solid overall structure: hydraulic oil tank, fuel tank, the sprocket gearbox and frame are together. Skid steer loaders the structure is more sturdy, the space is ...

Sideboom
GY90 full hydraulic sideboom is developed by our own technology. It has full hydraulic driving, micro computer control and specialized chassis...