WORLD EQUIPMENT CO.,LTD.
Marketing Office: No.593 Middle TongJiang Road, 4#1110-1116,Changzhou,Jiangsu,China 213022
Manufacture: Dantu Industrial Zone, ZhenJiang, JiangSu, China
Post Code : 213022
E-mail :
worldequipment@163.com
Main Features of Wheel Excavator, Wheel Digger
1. Original Mitsubishi engine from Japan with strong power, high efficiency, low failure rate, low oil consumption, low noise.
2. Our wheel excavator (wheel digger) has imported hydraulic pump, valves, motors, pilot valve ensure high performance.
3. Original European axles and transmission as well as our patent of gear shifting without stopping the machine ensure low failure rate.
4. Advanced electrical control system realizes the auto idling function, reducing fuel consumption.
5. Capacious and comfortable cabin with broad field of vision, silicone oil vibration absorbing and adjustable seat.
6. Solid and durable structural components ensure long time and stable operation.
7. Diverse optional attachments meet users' different requirements.
8. Original John Deere engine in accordance with EPA and EC tier 3 emission regulation is at users' option.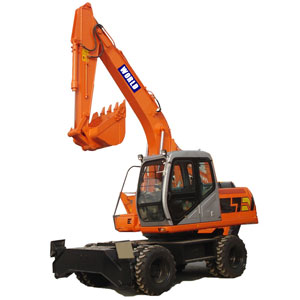 Wheel Excavator, Wheel Digger
Main Specification of Wheel Excavator, Wheel Digger

EL160
Specifications
Operation weight
15075kg
Standard bucket capacity
0.6m3
Arm length
2500mm
Boom length
4600mm
Engine
Model
Mitsubishi 4D34-TL
Type
Turbo-charged with inter-cooled
Power
85.5kw2200rpm
Max. torque
420N.m at 1600 rpm
NO. of cylinders
4
Displacement
3.91L
Hydraulic system
Main pump
Type
Variable displacement axial piston pumps
Max. displacement
2×80cm3/r
Working pressure
30Mpa
Hydraulic motor
Slew
Fixed displacement axial piston motor
Travel
Variable displacement axial piston motors
Performance
Slew speed
13.6rpm
Min. back Slew radius
2468mm
Max. travel speed high/low
28.44/6.98km/h
Gradeability
33.7°
Tractive effort
85kN
Max. digging force of bucket
85kN
TANK CAPACITY
Fuel tank capacity
217L
Hydraulic tank capacity
217L


World Equipment is a professional Chinese manufacturer and supplier of wheel excavator (wheel excavator). In our over 10 years exporting experience, we have accumulated abundant clients and product experience. Our wheel excavator (wheel digger ) has already been exported to Europe, South America, Middle East, Southeast Asia and Africa. We have clients in Congo, Tanzania, Russia, Algeria, Philippines, Kazakhstan, Iran, Saudi Arabia, Nigeria, Indonesia, Malaysia, The United Arab Emirates, South Africa, Australia, Sudan. We offer EL160 (16 Ton) and EL210 (20 Ton) equipped with engines of Mitsubishi 4D34-TL (EL160) and Isuzu 6BG1TRP (EL210). The excellent dynamic property is the powerful guarantee of the product's operation. If you need wheel excavator (wheel digger), please don't hesitate, contact us right now.
Related Products
Crawler Excavator
Engine: ISUZU (Japan).
Imported pump, valve and motor from Japan or Korea.
Our crawler excavator (crawler digger) have high rigidity cabin are capacious ...

Wheel Loader
Wheel loader is a construction machinery of earth and stone extensively used in the building of roads, railways, architecture, hydroelectricity, ports and mines. It is mainly used for shoveling soil, ...