WORLD EQUIPMENT CO.,LTD.
Marketing Office: No.593 Middle TongJiang Road, 4#1110-1116,Changzhou,Jiangsu,China 213022
Manufacture: Dantu Industrial Zone, ZhenJiang, JiangSu, China
Post Code : 213022
E-mail :
worldequipment@163.com
Description:
This E240 hydraulic crawler excavator is a safe and cost-effective construction machine. The main components of this hydraulic digger are equipped with international famous brand products. This E240 hydraulic crawler excavator adopts advanced ESS electric control system with three power control modes to meet the requirements of different working conditions. Vehicle-mounted remote control system with GPS makes maintenance much faster and more convenience. This reliable and durable hydraulic crawler digger has a capacious and comfortable driving cabin with broad field of vision.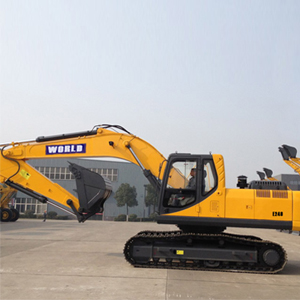 E240 Hydraulic Excavator
Main Specification of E240 Hydraulic Crawler Excavator:

Items
Models
E240
Engine System
Brand & Origin
ISUZU(Japan)
Model
CC-6BG1TRP
Rated Power (kw/rpm)
128.5/2100 kw/rpm
Max. Torque (N.m)
637.9/1800 Nm/rpm
Idle Speed (rpm)
950rpm
Engine Displacement (L)
6.494 L
Cylinder No.-Bore x Stroke (mm)
6-105mmx125mm
Engine Oil Capacity (L)
17.5~21.5L
Fuel Tank Capacity (L)
415 L
Fuel Consumption Rate (g/kw.h)
237 g/kw.h or less
Hydraulic System
Main Pump
Brand & Origin
KAWASAKI
Rated Pressure (MPa)
31.4/34.4MPa
Nominal Displacement (cm3/rev)
235×2L/min
Multiple Unit Valve
Brand & Origin
Parker
Rated Pressure (MPa)
31.4/34.3MPa
Hydraulic Motor
Travel Motor Brand & Origin
Doosan
Travel Motor Type & Model
Traveling Speed (H/L km/h))
5.2/3.2km/h
Swing Motor Brand & Origin
Sungbo
Swing Speed (r/min)
10.5r/min
Hydraulic Cylinder
Boom Cylinder (mm)
125mmx90mm
Arm Cylinder (mm)
140mmx105mm
Bucket Cylinder (mm)
130mmx90mm
Hydraulic Oil Tank Capacity (L)
180L
Working Specifications
Weight (kg)
23900kg
Bucket Capacity (m3)
1.1m3
Bucket Width (mm)
1256mm
Bucket Digging Force (kN)
137.5kN
Arm Digging Force (kN)
108kN
Ground Pressure (KPa)
49.5KPa
Grade ability
35°
Max. Digging Depth (mm)
6798mm
Max. Digging Height (mm)
10256mm
Max. Digging Radius (mm)
10237mm
Max. Discharging Height (mm)
7266mm
Min. Ground Clearance (mm)
466mm
Min. Swing Radius (mm)
2971mm
Overall Dimensions (mm)
10011mmx2980mmx3251mm
World Equipment Co., Ltd, is a professional manufacturer and supplier of hydraulic crawler excavator, or hydraulic crawler digger in China. We supply all kind of construction and engineering equipments like wheel loader, road rollers, crawler excavator, and other products. We assemble our quality components according to the ISO quality management system, and all our products are all manufactured in strict accordance with ISO14001 environmental management standard. As the matter those advantages, our hydraulic crawler excavators, or hydraulic crawler diggers are widely exported to Russia, Brazil, Congo, Ghana, Nigeria, Gambia, Kenya, and Tanzania and gain high reputation among our customers.
Related Products
E210 Hydraulic Crawler Excavator
This E210 hydraulic digger is an efficient construction machine equipped with CUMMINS B5.9-C engine and variable double–piston pump for the hydraulic system....

Wheel Loader
Wheel loader is a construction machinery of earth and stone extensively used in the building of roads, railways, architecture, hydroelectricity, ports and mines. It is mainly used for shoveling soil...