WORLD EQUIPMENT CO.,LTD.
Marketing Office: No.593 Middle TongJiang Road, 4#1110-1116,Changzhou,Jiangsu,China 213022
Manufacture: Dantu Industrial Zone, ZhenJiang, JiangSu, China
Post Code : 213022
E-mail :
worldequipment@163.com
The operating weight of hydraulic excavator machine E360 can reach 35.7t; CUMMINS 6C8.3 engine is applied to the machine. The boom of this machine is 6.47m. Working arm can reach 3.186m. And the bucket is 1.6m3. . For more detailed information, please refer to the following specifications.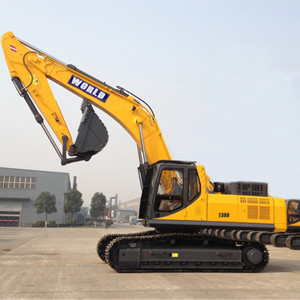 E360 Hydraulic Excavator
Technical Specificationsr

Items
Models
E360
Engine System
Brand & Origin
CUMMINS
Model
6C8.3
Rated Power (kw/rpm)
186/2200 kw/rpm
Max. Torque (N.m)
1158/1500 Nm/rpm
Idle Speed (rpm)
850rpm
Engine Displacement (L)
8.3 L
Cylinder No.-Bore x Stroke (mm)
6-114mmx134.9mm
Engine Oil Capacity (L)
17-28L
Fuel Tank Capacity (L)
550 L
Fuel Consumption Rate (g/kw.h)
214 g/kw.h or less
Hydraulic System
Main Pump
Brand & Origin
REXROTH
Rated Pressure (MPa)
31.4/34.3MPa
Nominal Displacement (cm3/rev)
320*2L/min
Multiple Unit Valve
Brand & Origin
REXROTH
Rated Pressure (MPa)
31.4/34.3MPa
Hydraulic Motor
Travel Motor Brand & Origin
REXROTH
Travel Motor Type & Model
Traveling Speed (H/L km/h))
5.1/3.0km/h
Swing Motor Brand & Origin
SUNJIN
Swing Speed (r/min)
10.5r/min
Hydraulic Cylinder
Boom Cylinder (mm)
140mmx100mm
Arm Cylinder (mm)
160mmx110mm
Bucket Cylinder (mm)
140mmx100mm
Hydraulic Oil Tank Capacity (L)
180L
Working Specifications
Weight (kg)
36020kg
Bucket Capacity (m3)
1.6m3
Bucket Width (mm)
1644mm
Bucket Digging Force (kN)
183kN
Arm Digging Force (kN)
154kN
Ground Pressure (KPa)
68KPa
Grade ability
35°
Max. Digging Depth (mm)
6581mm
Max. Digging Height (mm)
10105mm
Max. Digging Radius (mm)
11055mm
Max. Discharging Height (mm)
7101mm
Min. Ground Clearance (mm)
530mm
Min. Swing Radius (mm)
3405mm
Overall Dimensions (mm)
11138mmx3190mmx3212mm
Notice: the optional or special parts can not be equipped on the machine without our company's authorization.
Related Products
E210 Hydraulic Crawler Excavator
This E210 hydraulic digger is an efficient construction machine equipped with CUMMINS B5.9-C engine and variable double–piston pump for the hydraulic system....

Wheel Loader
Wheel loader is a construction machinery of earth and stone extensively used in the building of roads, railways, architecture, hydroelectricity, ports and mines. It is mainly used for shoveling soil...