WORLD EQUIPMENT CO.,LTD.
Marketing Office: No.593 Middle TongJiang Road, 4#1110-1116,Changzhou,Jiangsu,China 213022
Manufacture: Dantu Industrial Zone, ZhenJiang, JiangSu, China
Post Code : 213022
E-mail :
worldequipment@163.com
Description of Three Wheel Static Roller
The three wheel static roller are capable of compacting grave, macadam, asphalt concrete, non-cohesive or less cohesive soils, lime and cinder as well as rolling of foundations of public squares and pavements.
Main Features of Three Wheel Static Roller
1. Compact construction and small turning radius, with smooth finished surface.
2. The disk brake and change-over clutch are reliable and durable.
3. The hydraulic steering system assures easy manipulation.
4. The driving roll is made of cast steel. With thickness increased for sturdy and wear-resisting.
5. The comfortable seat and excellent visibility feature its rational design.
6. Either a cab or a canopy is available to buyer's option.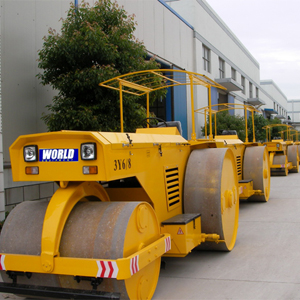 Three Wheel Static Roller
Main Specification of Three Wheel Static Roller

Model
3YJ8/10
3YJ8/12
3YJ10/12
Weight (t)
Without Ballast
8
8
10
With Ballast
10
12
12
Roll Diameter (mm)
Front Roll (for steering)
1060
1060
1060
Rear Roll (for driving)
1500
1600
1600
Roll width (mm)
Front Roll
1250
1250
1250
Rear Roll
500×2
500×2
500×2
Linear Pressure (N/CM)
Rear Roll
Without Ballast
>520
>520
>650
With Ballast
>650
>730
>780
Travel speed (km/h)
I speed
2
1.9
1.9
II speed
3.5
3.2
3.2
III speed
8
7.5
7.5
Min. Turning radius (mm)
≦5500
≦6000
≦6000
Grade ability
1:5
1:5
1:5
Wheel Base (mm)
2500
2800
2800
Ground Clearance (mm)
270
300
320
Diesel Engine
Type
495AY
4135K-2C
4135K-2C
Rated Power
36
58
58
Rated speed
2000
1500
1500
Overall Dimension(mm) L×W×H
Cabin
4343×2116×2717
4664×2116×2767
Canopy
4460×2116×2613
5039×2116×2663
4760×2116×2663
World Equipment is a professional Chinese manufacturer and supplier of three wheel static roller. In over 10 years, we keep improving our products to make them better adapt to the market. We offer 3 types, namely, 3YJ8/10 (8T/10T), 3YJ8/12 (8T/12T), and 3YJ10/12 (10T/12T), to satisfy the clients' different demands. If you need three wheel static roller, contact us without hesitation.
Related Products
Single Drum Vibrating Roller
R220C、R218C、R216C、R214C、R212C、R210C heavy duty single drum vibrating roller effect powerful centrifugal force and great static linear load, They are suitable for non-cohesive materials, ...

3-4.5 Ton Hydraulic Roller
Our 3-4.5ton hydraulic vibratory roller is mainly used in highway municipal work, country road, stadium and many other different projects.
This kind of hydraulic vibratory ...