WORLD EQUIPMENT CO.,LTD.
Marketing Office: No.593 Middle TongJiang Road, 4#1110-1116,Changzhou,Jiangsu,China 213022
Manufacture: Dantu Industrial Zone, ZhenJiang, JiangSu, China
Post Code : 213022
E-mail :
worldequipment@163.com
Description of Mini Wheel Loader:
This wheel loader, sometimes also referred to as mini wheel loader, is a kind of earthmoving machine widely used in the construction of highways, railways, building, hydroelectric power stations, ports, mines, etc. It is mainly used to shovel bulk materials, such as soil, dinas, lime, coal, and that. Moreover, it can also be used in light shoveling ores, hard soil, and so on.
As a kind of wheel loader, it has a horsepower no more than 100. In terms of applications, the mini wheel loaders are quite similar to skid steer loaders. But with wider visibility, larger cab space and better durability, the mini wheel loader is more comfortable and safer. Besides, the loader has greater lift capacity and longer wheelbase that makes it more stable when dealing with heavy loads.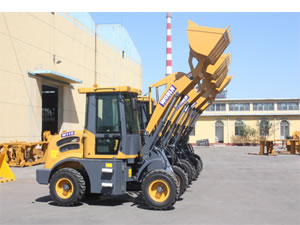 Mini Wheel Loader
Features of Mini Wheel Loader:
1. 2 forward and 2 reverse power shift transmissions have designed for the mini wheel loader.
2. Combined seal cylinder contributes to high seal performance and more reliability
World Equipment is a professional manufacturer and supplier of mini wheel loader in china. With over 10 years' export experience, we have accumulated abundant clients and production experience. Our mini wheel loader have been quite popular among customers in Congo, Tanzania, Russia, Algeria, Philippines, Kazakhstan, Iran, Saudi Arabia, Nigeria, Indonesia, Malaysia, The United Arab Emirates, South Africa, Australia, Brazil, and Sudan. If you need mini wheel loader, please contact us.
Related Products
Crawler Bulldozer
Crawler bulldozer (track-type tractor is also called crawler dozer, which is powered ob tractors. At the front, it is fixed with a huge metal bulldozer knife, which is dropped when in use. It can be used for ...

Road Roller
Road roller belongs to road devices in the construction machinery. It is widely used for filling and compacting in huge construction projects such as roads, railways, airport runways, ...